Reading Ranch Blog Articles
We've written time and time again that having the ability to read at a very early age creates the basis of all education moving forward and even career success. But more importantly, reading is fun! I, for one, cannot imagine a world without books…
It has long been said that the best readers make the best writers, and the best writers are good readers. We couldn't agree more with that statement. Like a lightbulb needs electricity to work…
The Reading Ranch® Tutorial Center announced recently that we are expanding our literacy program to include fifth and sixth graders. We are excited to make this transition, as the new approach will allow us to work with these kiddos through the end of elementary school – instead of just up to fourth grade – so they are better prepared for the road ahead.
You don't need fancy statistics to understand the importance of helping a child improve his or her reading skills. The acts of reading and being read to improve a child's vocabulary, communication and comprehension…
Dr. Kim Southwell didn't come from money or the big city. She was raised in a small rural town, where her dad was a cattle buyer & farmer. Kim spent her free time at cattle sale barns, feedlots, and 4-H livestock fairs showing cattle, riding horses, and driving the tractor through pastures helping with chores.
It occurred to me recently how rare our focus is here at The Reading Ranch®. Sure, we are like any tutoring center in that we take pride in improving a child's skills in the classroom and life.
One of the vivid memories I have from childhood was of me snuggled next to my mom as she read me a bedtime story. After all these years, I still hear that soft voice and imagine her finger sliding across each word on the page. It didn't matter what she was reading – I was hooked.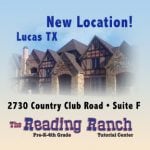 New Location Lucas Texas
The Reading Ranch Tutorial Center (Fairview/Lucas)
2730 Country Club Road, Suite F, Lucas, TX 75002
Across from LoveJoy Elementary!
Fluency: How to improve fluency while reading bedtime stories to your kids.
A common question parents ask me is, "how do I help my child read better?" Practice these easy steps to your parent/child story time which will help build fluency with an early reader.  The story time book will be read 3 different times:
Reading Ranch provides an interactive writing program Writer's Workshop model which focuses on building the writing process by developing a students' ideas and transforming into a polished (publishable) writing piece.
Reading Ranch provides reading tutoring in the Frisco and Plano Texas areas. We encourage all parents to become a supporter in their child's early reading development. Below you will find a helpful guide when reading aloud with your child at home:
Are you concerned your child is having problems with reading or writing?  If so, speak with the teacher who will be able to tell you if your child is indeed falling behind.  An ongoing teacher assessment will give you an idea of your child's reading level and what is expected at that stage.
Today, parents are greatly concerned in giving their young children the greatest head start in learning to read.  Entering kindergarten many children are beyond their ABC's.  In fact, many are walking in the classroom door as a reader and/or legible writer.   If your child is not there yet, do not panic.  Below are some basic literacy activities that will enrich a child's foundation in learning to read and write.
The purpose of Reading Ranch is to provide children with enrichment and/or intervention in reading and writing while giving students the confidence and independence to be successful in literacy.