Reading Ranch Blog Articles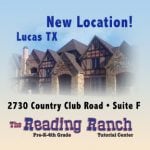 New Location Lucas Texas
The Reading Ranch Tutorial Center (Fairview/Lucas)
2730 Country Club Road, Suite F, Lucas, TX 75002
Across from LoveJoy Elementary!
Fluency: How to improve fluency while reading bedtime stories to your kids.
A common question parents ask me is, "how do I help my child read better?" Practice these easy steps to your parent/child story time which will help build fluency with an early reader.  The story time book will be read 3 different times:
Reading Ranch provides an interactive writing program Writer's Workshop model which focuses on building the writing process by developing a students' ideas and transforming into a polished (publishable) writing piece.
Reading Ranch provides reading tutoring in the Frisco and Plano Texas areas. We encourage all parents to become a supporter in their child's early reading development. Below you will find a helpful guide when reading aloud with your child at home:
Are you concerned your child is having problems with reading or writing?  If so, speak with the teacher who will be able to tell you if your child is indeed falling behind.  An ongoing teacher assessment will give you an idea of your child's reading level and what is expected at that stage.
Today, parents are greatly concerned in giving their young children the greatest head start in learning to read.  Entering kindergarten many children are beyond their ABC's.  In fact, many are walking in the classroom door as a reader and/or legible writer.   If your child is not there yet, do not panic.  Below are some basic literacy activities that will enrich a child's foundation in learning to read and write.
The purpose of Reading Ranch is to provide children with enrichment and/or intervention in reading and writing while giving students the confidence and independence to be successful in literacy.