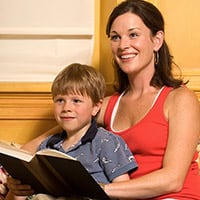 Pre-K to 6th Grade
Multi-Sensory Early Reading
We offer a Multi-Sensory Early Reading Approach to children PreK Early Reading/Writing Enrichment & Intervention programs for Kinder to 6th grade. Our phonetically based program provides children with a strong foundation of word attack skills, fluency building, writing and spelling enhancement. (*foundationally strong & beneficial to students with dyslexic or dysgraphic tendencies).
PreK to 6th
Class : 2-3 students per class – 50 min

Class Day Options
1, 2, or 3 day a week programs
4 weeks of class per month
50 min classes
Sessions Include
Each student receives Multi-Sensory interactive reading approach in a small group with built in one-on-one instruction time from a trained Reading Ranch™ Certified Literacy Specialist.
Monday-Friday afternoon and after school, Saturday-Sunday morning and afternoon classes available.
Early Reading: Phonics, Language & Early Guided Reading
Multi-Sensory Language II: Phonics, Spelling & Fluency Building
Intervention Spelling & Vocabulary Enhancement
Multi-Sensory Language K: Phonics, Word Play & Early Guided Reading
Intervention Reading/Fluency Program
Writing Lab: Handwriting, Guided Writing & Grammar
Multi-Sensory Language I: Phonics, Spelling & Guided Reading
Reading Comprehension
Writing Lab: Written Expression
Critical Thinking: Analysis & Reasoning
Learn More about Coursework