Dogs, Kids, and Reading! What do these have in common? They are all great at making reading more fun! Having a dog around is a great way to encourage reading for kids. Studies have shown that kids who read to dogs or have dogs nearby tend to read more often and with better comprehension than those who don't. And, of course, everyone knows that dogs love getting their ears scratched while they listen!
Research proves it!
Researchers at UC Davis confirmed that children who read aloud to Fido perform better than those that didn't. In 10 weeks, these kids who were just learning to read improved their reading skills by 12%, while other students showed no improvement whatsoever!
 Reading with your dog makes you more intelligent and can help improve several aspects such as attention span or working memory capacity (which deals mainly with numbers).
 So, the next time you're stuck on a reading assignment, grab your furry friend and get started! Not only will you be doing something enjoyable and helpful, but you'll also have a friend to keep you company. And who knows – maybe your dog can even help you get an A+!
Practice, Practice, Practice
Reading aloud to a dog is a great way to practice your reading fluency and improve your reading skills. Not only will you get the benefit of practicing in a fun and relaxed environment, but you'll also be giving your furry friend some quality time! Dogs love getting attention, and they'll be sure to listen while you read
It Helps Kids Relax and Enjoy Reading
When kids read to dogs, they feel more relaxed. This is because they are practicing reading in a fun and simple way. They are not under pressure to perform, and they can take their time reading to the dog. This relaxed atmosphere will help kids enjoy reading more and improve their skills simultaneously!
It Helps Kids Develop Relationships
Reading to dogs not only helps kids improve their reading skills, but it can also help them build meaningful relationships. Dogs provide a non-judgmental audience who will always be happy to listen (and maybe even wag their tail in encouragement). This can be helpful for kids who are shy or struggling with confidence.
Reading to Dogs Helps Build Confidence
"Rover" doesn't care if you make a mistake, have to re-read the sentence, or if you don't pronounce it just right. Your four-legged friend always has a happy wag of his tail! He's there with you and provides you a lick or two in the face once in a while to keep you motivated.
So reading to Rover is not only fun but helps your child learn even faster! The dogs will love the attention, and you will love the companionship and help with reading.
Reading to Rover days at The Reading Ranch®
At The Reading Ranch, we use our Reading to Rover days to create a fun environment, give the kids something to look forward to, and help them achieve those reading gains even faster. You can see The Reading Ranch is a safe and secure environment where kids come to read, learn, laugh, and have fun. We offer programs for kids from PreK-6th grade.
You can see how much fun the kids have on our special days with our four-legged friends!
If you are looking for a great place to help improve your child's reading skills, look no further than The Reading Ranch! Contact us today to find out more about our outstanding programs!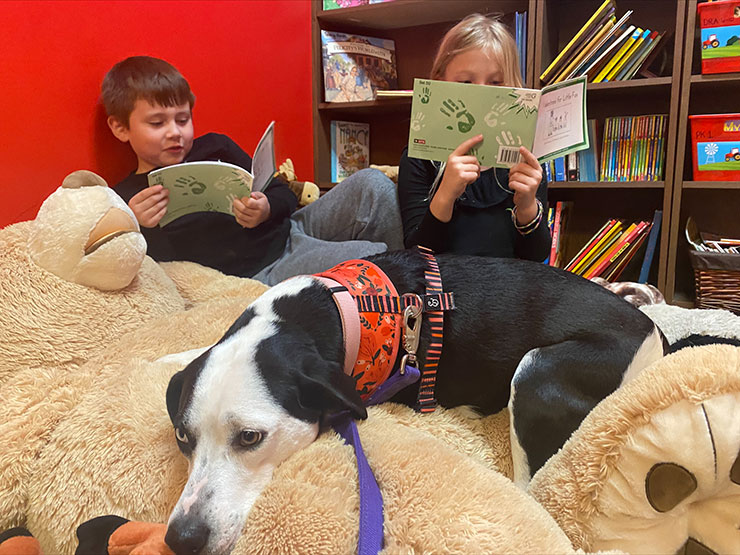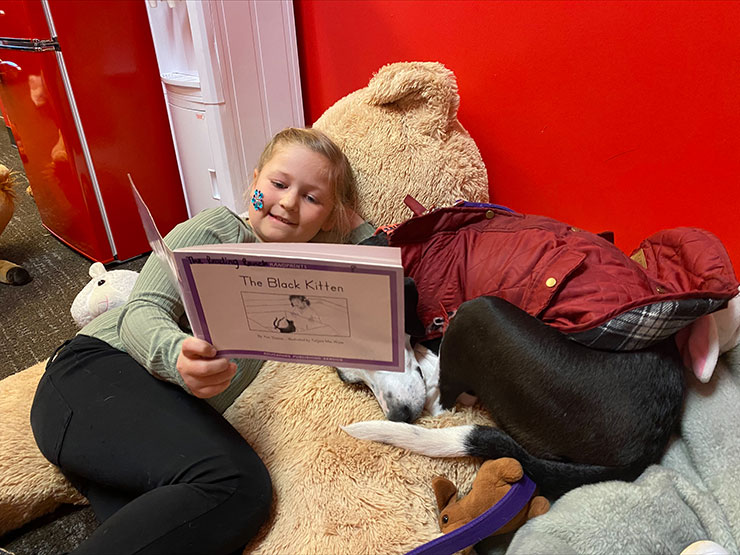 About The Reading Ranch
The Reading Ranch is based in Texas and has 11 Centers in the DFW area as well as an online Virtual Literacy Program. We are laser-focused on literacy and provide reading intervention, phonics for reading, reading enrichment, comprehension, writing, and critical analysis classes for Prek-6th grade students.
At The Reading Ranch, our motto is "We Make Reading FUN"! Our methods are interactive and not the "drill/kill' of many other programs.
The Reading Ranch curriculum created by Dr. Southwell at The Reading Ranch is research-based and heavy on phonics. Research has proven time, and again phonics is the best method of learning language and literacy skills.