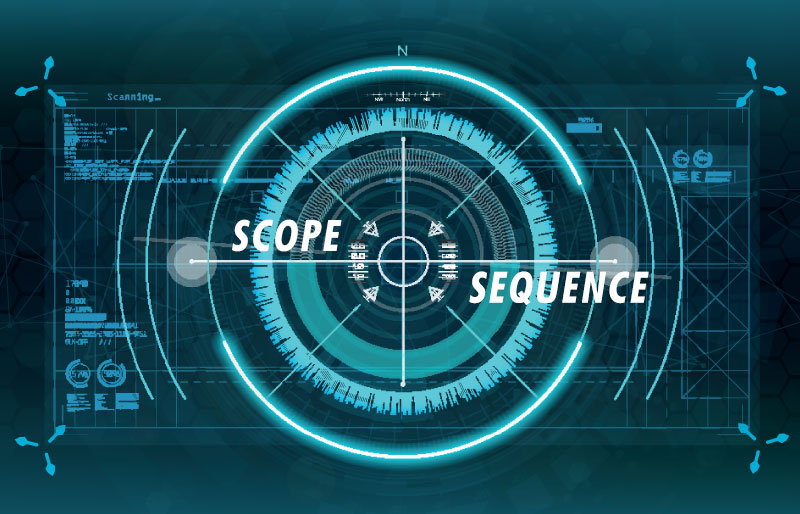 By Brian Southwell
Scope and sequence is a structure of teaching a subject (the scope) in a specific sequence. The proper usage of scope and sequence in education allows students to maximize their learning and sets them up for further learning opportunities in the future.
Without a scope and sequence to a subject/topic, students miss details and the vital context in their learning, which may create learning gaps in the future.
The scope refers to the expected learning that students should obtain by studying a subject/topic. The scope of a topic includes what will be taught and how it will be taught, with what materials, at which level, etc.
It can be helpful to think of the scope in terms of levels of understanding. At the most basic level, students should understand and explain the facts and concepts related to a topic. At a higher level, students should apply the facts and concepts in different settings and explain how they can be used in new contexts. Finally, students should also analyze and evaluate other points of view, interpretations, or arguments related to a topic.
The sequence is the order the information is taught. The order of a sequence can impact a student's learning, so they will most likely have the most effective result if the sequence is aligned with how they learn. For example, a student may not retain information taught early in a lesson plan, but by introducing it later, they may understand the concept more easily.
What does organized developmental scope and sequence mean?
A series of learning opportunities that improve the ability to manage learning in ways that support your child to move forward in their development. An organized developmental scope is described in detail how an individual's program can assist a child with different developmental stages. It includes learning experiences that help and extend a child's knowledge.
Scope and Sequence in Mathematics
Mathematics is an excellent example of how scope and sequence should be used in teaching. In mathematics, the scope starts with counting and progresses to more complex concepts such as solving equations. The sequence in teaching mathematics ensures that students have a strong foundation before moving on to more complex material. If the sequence were different, learning the more challenging concepts built on, the more accessible material would be challenging and less fruitful.
Scope and Sequence in English/Language Arts
In English/language arts, proper scope and sequence teach students reading and writing and beginning with basic concepts such as the alphabet, basic sounds, vowels, and consonants, phonics, etc.
Adequately designed programs introduce stories with reading comprehension, writing narratives or essays with detailed paragraphs, understanding vocabulary words based on word parts, and using grammar to make their writing clear. The sequence in teaching English/language arts ensures that students learn the basics of the language before moving on to more complex material.
Why are Scope and Sequence essential when looking for a reading tutor?
The proper usage of scope and sequence in a reading tutoring program is vital to develop the necessary reading skills and abilities at the appropriate time in a child's developmental stage. A tutoring program that only helps students do their homework or has no actual curriculum is likely not following any structured program. This could lead to significant gaps in a child's reading and writing skills in the future.
Without a scope and sequence to a subject/topic, students miss details and the critical context in their learning, which may create learning gaps in the future.
The Reading Ranch Method
The Reading Ranch Method employs the proper scope and sequence into our course offerings and curriculum. This is a crucial part of our programs; our reading tutoring curriculum is based on the appropriate scope and sequence design that brings in the correct context and learning patterns at the right time, grade levels, and developmental stage. One of the issues seen when teaching was that many important concepts and information were either left out or presented in an order that made no sense to children, which created learning gaps that widened as the child got older.
The scope and sequence used in the curriculum at The Reading Ranch are based on research into how children learn to read and write. There are always "shiny new objects and theories" in every field. However, I chose to go with well-researched methods when I wrote the curriculum for our courses.
We are adamant about our teachers following The Reading Ranch Method in our courses. It is even part of our initial interview process where we discuss its importance when teaching at The Reading Ranch. We make some changes from time to time to improve our results and offer the student the best way to learn the material.
Reading Tutoring and Reading Skills
Our reading tutoring process begins with an evaluation to assess your child's strengths and weaknesses when it comes to reading. This evaluation also allows us to understand their learning style and goals better, enabling us to prepare the best reading tutoring program for overall success.
The individualized reading tutoring program we build is implemented in a way that factors in your student's academic needs and schedule. From the most basic reading skills like letter and word recognition to reading comprehension and the most complex concepts such as symbolism and theme, our reading tutors will focus on your student's specific needs.
We help struggling readers in PreK through elementary school with reading, writing, spelling, and comprehension skills. Our program can help advanced readers stay ahead of their classmates and struggling readers to catch up.
We take struggling readers and turn them into confident, strong readers. Our multisensory program is very effective with children showing dyslexic tendencies that have been diagnosed with dyslexia. Our reading tutors use a scope and sequence that helps students learn in the order they will be most successful.
Our Programs are designed with the proper scope and sequence for your child
The Reading Ranch offers several programs in literacy for PreK-6th grade students. ALL of our curricula are written and implemented using The Reading Method, ensuring proper scope and sequencing. When looking for a reading tutor, contact us to discuss your needs and sign up for one of our free sample classes for your child.
We make Reading and Writing FUN!
For more information on The Reading Ranch's CARs program, contact us today!
Ph. 469-573-1781
Multisensory Language I – Phonics
Reading Intervention
Spelling Intervention & Vocabulary
Critical Thinking: Analysis & Reasoning
Writing Lab/Written Expression, Sentence,
Paragraph, Essay, Writing
Vocabulary, Spelling & Grammar
About The Reading Ranch
The Reading Ranch is based in Texas and has 11 Centers in the DFW area as well as an online Virtual Literacy Program. We are laser-focused on literacy and provide reading intervention, phonics for reading, reading enrichment, comprehension, writing, and critical analysis classes for Prek-6th grade students.
At The Reading Ranch, our motto is "We Make Reading FUN"! Our methods are interactive and not the "drill/kill' of many other programs.
The Reading Ranch curriculum created by Dr. Southwell at The Reading Ranch is research-based and heavy on phonics. Research has proven time, and again phonics is the best method of learning language and literacy skills.