Top 5 Ways To Get Started With Interactive Writing
By Kiran Gokal
Interactive writing is a dynamic form of instruction that is designed to strengthen a student's understanding of the writing process.
Through small group settings in the classroom, this process is proven to develop a child's critical reading and writing skills by taking a multi-sensory approach and combining tactile and visual senses.
What is Interactive Writing?
You must be thinking… what exactly is interactive writing? How is this any different than what my child learns in school?
Interactive writing involves the teacher playing an active role in the student's learning process. Utilizing different methods, students work with the instructor in small groups and write collaboratively to build awareness of different spelling strategies and strengthen literacy skills.
Why is interactive writing important?
Writing is a complex process for young children to grasp on their own. With the teacher sharing the pen and guiding students using methods such as writing on whiteboards, using a word wall, and practicing building sentences with high-frequency words, the students become more involved in the act of writing.
How does this instruction differentiate from what your children receive at school? For one, the writing lesson is done in a much smaller setting than a 30 student classroom. Secondly, with interactive writing, your child gains the tools to analyze their own writing and practice independent writing which will help them in the long run.
The goal of Interactive Writing
Interactive writing is context-based instruction in which students learn directly from their previous experiences. In a brief weekly lesson, students may gather together with experienced teachers to work on writing in various forms.
For example, an entire class may focus on writing using transition words or writing a thesis statement–focusing on the same topic that students are currently struggling with.
During interactive drafting, there are often ways of introducing instruction that is tailored to specific student requirements. For instance, in a session of kindergartners, the teacher being present and playing an active role engages children in developing phonological awareness.
It's also completely customizable. In each session, the teacher can choose carefully what the students will learn in class and negotiate the most effective instruction methods.
What does interactive mean in the writing process?
Rather than learning to write one singular way, writing interactively combines various methods and activities to gain the most instructional value possible. The "interactive" piece requires groups to collaboratively compose writing via guided conversation, while also using one particular "shared pencil technique."
It also means an instructor will allow students to get out of their seat and utilize different mediums to brainstorm and construct sentences or essays. This way, students write sentences, paragraphs, and whole essays in an environment that will not only encourage students, but also engage them.
How to get your child started with interactive writing
How to get your child started with interactive writing
1. Assess your child's writing level
The very first thing you need to do is assess where your child is in terms of their writing level. Depending on what writing instruction they have had, it can vary greatly. Some students may excel in writing, mastering constructing sentences, and sequencing ideas together, while other students may still struggle with letter formation and spacing.
Age also is a big indicator of whether a child can be successful in independent writing. This is why it's important to seek out ways to assess where the young writers fall on the spectrum of skills. One way is to enroll them in coaching centers that will perform an assessment before recommending a customized curriculum.
2. Learn about the different techniques of an interactive writing session and why it's so helpful.
An interactive writing lesson differs from typical writing instruction because it focuses less on what you teach children and more on practicing it. An interactive writing session is a collaboration between students and teachers. The teacher introduces a concept and puts it in practice while teaching the student, actively asking questions, and helping them understand the method while it's being taught.
In these sessions, the teacher writes and students copy the methods and processes to create their own interactive writing pieces. The goal is to reinforce different writing strategies by teaching and building on them every class until the student can perform them successfully on their own.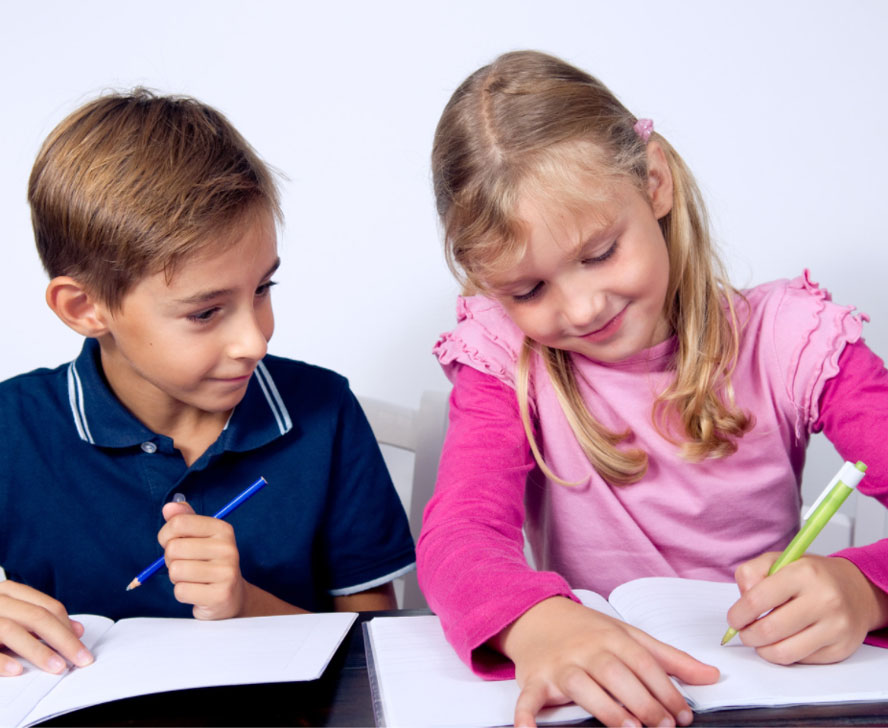 Kiran Gokal is a freelance writer, teacher, and lover of the written word specializing in content articles, blog posts, and marketing copywriting. For the past three years, she's been teaching bright young students all about reading and writing while also lending her writing skills to different businesses and non-profits in the education sector.
3. Get started with an interactive writing lesson at a center you trust
After understanding the impact this method can have on a young student's ability to express themselves through independent writing, it is time to find a trusted coaching center than can maximize the benefits of interactive writing for your children.
When choosing the best place for your child to learn shared writing strategies, the first thing is to prioritize the methods the center uses. How adaptable are the classes? How do they differentiate instruction? What variety do the sessions have?
4. Reinforce writing strategies as students progress
As with any lesson, children need reinforcement and practice to master skills. Whether students are learning letters, spelling words, constructing sentences, or whole paragraphs, practice makes perfect. This continuous practice can mean practicing writing at home which helps young students hold on to skills they've learned in the classroom, or it can be enrolling in a coaching center that practices building on previously learned skills.
An interactive writing lesson is meant to reinforce teachings learned in previous lessons. The instruction takes a holistic approach of teaching the writing continuum which includes mastering print and/or cursive writing, brainstorming, pre-writing, self-editing (correct spelling), and finally publishing a final copy.
Different foundational skills are also supported such as writing whole words, choosing correct word choices, remembering writing conventions such as capital letters and punctuation for primary grades.
5. Track your child's progress and watch them shine!
Once your child starts on the path of interactive writing, the benefits start to take off. As humans, we learn best by emulating. Teachers and students have a special bond where students look up to their teachers. In writing lessons where teachers share the pen with students, it can be much less intimidating for them and allow for a safe and controlled environment for children to engage.
This environment is crucial for progress to be made. Mastering the written language is tricky but not impossible, and as students begin to write more confidently, you will see them shine.
Tracking progress with interactive writing is less about marks and grades, and more about what your child can accomplish independently and in the classroom. It means watching them gradually understand a range of foundation writing and literacy skills to communicate their ideas.
Luckily, a coaching center like the Reading Ranch has a cultivated curriculum that not only implements strong interactive writing lessons but also reinforces writing strategies and tracks student progress.
Why Choose Reading Ranch?
The Reading Ranch is a literacy-focused tutorial center offering research-backed interactive writing lessons. The center employs expert writer teachers that excel in instructing classes through a collaborative style of teaching. With classes, consisting of a few students or less, you can rest assured your child is getting quality writing lessons using a variety of proven principles that build literacy and writing ability.
The Reading Ranch Method
The interactive writing classes are divided into Early Writing and Advanced Writing. Both classes engage students in writing a variety of different writing genres and actively guide them in learning and implementing the conventions of each.
Early Writing classes, mainly for PK-first graders, focus on print writing, letter formation, formulating sentences, and understanding the conventions of a paragraph.
In contrast, Advanced Writing classes, typically 2nd graders and up, introduce the topics of essays. The class breaks down different genres of essays into digestible parts so students write a piece every class until publishing a final copy.
What makes the Reading Ranch the best option?
The Reading Ranch curriculum consists of research-based instruction that prides itself on using a variety of interactive methods and a multisensory teaching approach. The center does not believe in a worksheet, drill/kill approach, but rather an interactive learning environment that encourages students to take an active role in their reading and writing.
The center specializes in interactive writing and has an expansive curriculum that guides students through different assignments on written text and correlates it with what they learn in the school year.
Kiran Gokal is a freelance writer, teacher, and lover of the written word specializing in content articles, blog posts, and marketing copywriting. For the past three years, she's been teaching bright young students all about reading and writing while also lending her writing skills to different businesses and non-profits in the education sector.  Kiran is also the manager of The Reading Ranch in Southlake, TX.